March 2013 Update - Sirius has one of the worst cases of hip dysplasia the vet has ever seen. He is not a candidate for a total hip replacement because his hip is so deformed. We are working with the vet now to figure out the best course of treatment.
August 2012 Update - Sirius is more sociable and not emaciated. Unfortunately, we received very troubling news about him. He has the worst case of hip dysplasia seen by Sherwood South Animal Hospital. The vet described his condition as having no balls in the hip sockets. This is a very painful condition. Now that we know about the condition we are treating him with daily pain medication. His medication currently runs around $90 a month. If you can assist in paying for his medication we would appreciate it! Donate for Sirius All donations are tax-deductible.
Sirius was found wandering the streets. He is obviously starved and has had a rough time. In addition to being emaciated he is a high heartworm positive. He is safe with APAWS now and his foster mom is working to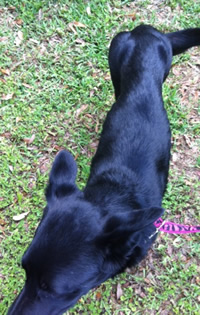 slowly put weight on him. He is terrified of new people, there's no way of knowing what has happened to him. He gets along with other dogs and even shared his dinner with a puppy!
We are saddened he had such a rough time, but hopeful he will heal both physically and emotionally.