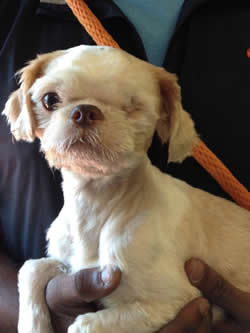 Donate for Captain Jack
Captain Jack was hit by a car and left for dead on the side of the road. No one stopped to help him, but someone called animal control to pick up the dead dog. When animal control arrived they realized Captain Jack was still alive! His injuries caused a broken jaw and the loss of an eye. After being treated by the vet he was brought to an APAWS foster home where he received lots of love and attention.
The morning of October 21, 2013 his foster mom heard him cry. She went to see what was wrong and found him trembling and crying. Unsure of what happened she immediately put him in the car and rushed him to the vet. On the way to the vet he vomitted and continued to tremble, she feared he was having a seizure. He cried in pain all the way to the vet and in the vet's waiting room. After the exam the vet concluded he is suffering from a bulging disc. Most likely this is due to being hit by a car. He may have stretched or moved in a certain way that caused it to finally pop out. The vet could not move it because the disc is compressing his spinal cord and causing him tremendous pain. He is not paralyzed and the injury seems to be confined to the one disc.
He is currently being hospitalized at Sherwood South Animal Hospital. We are hoping with rest and medication for the pain the disc will go back into place on its own. If it doesn't he will have to undergo surgery. The hospitalization is estimated to cost $500 to $700. If surgery is necessary the cost will be close to $3,000. Please donate to Captain Jack's care!