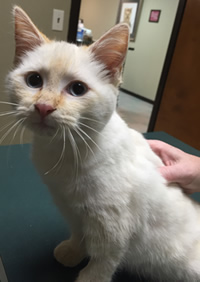 Robin was found the evening of January 1st 2015. An APAWS volunteer heard what sounded like a cat fight outside and went to see what was going on. She found little Robin with bloody paws and dragging his back feet. She immediately brought him to Baton Rouge Pet Emergency Clinic where the vet found puncture wounds indicating a dog or coyote attack. Although there were three noticable bite wounds in his small body no major organs or arteries were injured. He is currently recovering from the trauma and has no use of his back legs and is not able to urinate on his own. We hope as the swelling goes down he will regain use of his legs and be able to potty on his own.
This little boy was definitely lucky an APAWS volunteer stopped the attack and he received immediate vet care. He will be in foster care until he regains his ability to urinate. If he doesn't regain this ability he will remain in foster care permanently.
Robin is about 4 months old and very sweet!