Christmas Stocking Orders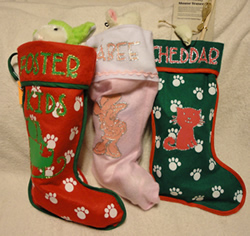 Order your personalized Christmas stocking today!
The stockings are decorated by our volunteers with lots of love!
Stocking only - $5.00
Stocking with cat toys - $10.00
Stocking with small dog toys - $10.00
Stocking with large dog toys - $12.00
Cat toys only - $7.00
Small dog toys only - $7.00
Large dog toys only - $9.00
How to get your stocking
Pick-up at the PetSmart off of Siegen December 3rd, 10th and 17th.
Shipping is available for the stocking only (shipping the toys is too costly). Shipping is via USPS for $5.20 (Priority flate rate small box)
We are happy to deliver to Baton Rouge area businesses. We require a minimum of five stockings to deliver to a business. All deliveries will be made in the month of December.
Payment
In person when you pick up your stocking (we can only accept cash or check in person)
By mail to PO Box 40981, Baton Rouge, LA 70835
If you have any questions please email us!
Two adopted APAWS kitties enjoying their stockings last year!
These are the images we have available. The images are listed in alphabetical order (except for dog and cat). If you would prefer something not listed please let us know and we will see if we can find it!
Animals
Disney
Christmas
Bear
Aladdin & Jasmin
Angel
Bird
Ariel
Santa on Sleigh
Cat
Belle
Turtle Doves
Deer
Belle & Beast
Hanukkah
Dog
Donald
Star of David
Fish
Goofy
Hello Kitty
Frog
Jasmin
Cheerleader Hello Kitty
Gecko
Mickey
Hello Kitty
Jumping Bunny
Mickey & Minnie
Hello Kitty as a cat
Mouse
Minnie
Hello Kitty as an Elf
Snake
Pluto
Hello Kitty as a Reindeer
Tiger
Pocahontas
Sports
Turtle
Trucks
Baseball
Wolf
Dump Truck
Basketball
Tow Truck
Football
Football Helmet
Soccer Ball
Volleyball