PetSmart National Adoption Weekend and Star Wars Celebration!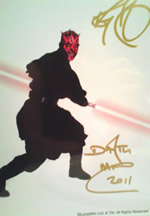 On November 12th APAWS will be participating in the Petsmart National Adoption Weekend.  Special friends of APAWS will be out to welcome our supporters. Come out and meet some of the members of the 501st Legion. Star Wars fans will recognize these bad guys, but these are bad guys who do good.  In honor of our special guests our event will be Star Wars themed.  We will be selling jambalaya dinners and Star Wars treats as a fundraiser and we will also be having a food drive for the cats and dogs in the group.
The more ingredients we can have donated the more money we will make. You can either donate via paypal or contact us for a list of what we need.
We are also doing preorders of the jambalaya - order yours today! Each dinner is only $5!
Another special treat will be a silent auction of an autographed Darth Maul picture signed by Ray Park. This is an authentic autograph as our Cat Foster chair met Ray Park in person at the New Orleans Comic Convention. Ray Park loves animals very much and graciously asked if he could give us a photograph to use to help the animals.
The results from our fundraiser November 13th:
Total raised (after expenses)

$324.68

Donated Food/Litter
Dog Food

185.6 lb

Dog Treats

4

Cat Food

143.4 lb

Cat Treats

14

Cat Litter

91 lb