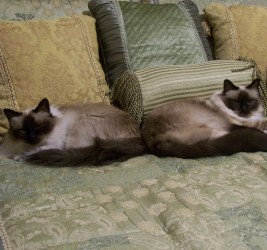 October 28th Update - Toby and Sassy are doing great in their new home! They get along with both the other cat and the dog. We are so happy we were able to place these two and so thankful to everyone who donated! The donations were able to more than cover the travel expenses to get them to Alabama. The excess went towards their last vet bill.
September 29th Update - Both Toby and Sassy had a full blood panel and exam. They are both very healthy! For their ages they are in amazing health. Two of our volunteers will be bringing Toby and Sassy to their new home October 8th. We can't wait to get them home!
Sassy and Toby are a mother and son pair of senior Birman cats - 15 and 13 years old. Their former owner passed away and a family friend took them in, but could not keep them. We recently received the perfect application for these wonderful cats. The lady is retiring this coming month, and already has a 13 year old Birman. She knows the breed and she wants to help these two babies stay together. 

The only problem is that this wonderful new forever home is in Decatur, Alabama. APAWS usually does not do adoptions that are farther away than we would normally be willing to drive ourselves, but how often do you get a great applicant for 13 and 15 year old cats to stay together?  We will not put cats on a transport - they will travel in our cars sitting right beside us so we can ensure that they arrive safely and that their new homes are good homes.

Sassy and Toby's foster mom needs help with the travel costs for this trip (gas and an overnight stay). She will drive straight there, meet the lady at her home and then return.  Any money raised beyond the cost of the travel and lodging will go directly toward Sassy and Toby's veterinary bills. They recently had a checkup and blood work done to make sure they are healthy before taking such a long trip.
Please consider donating to Sassy and Toby's travel fund!

As a reminder all donations are tax-deductible! Donors will be listed on our Supporters page and in our newsletter. Thank you so much for helping these two senior cats get to their forever home! If you have any questions, please contact us at info@apawspets.org.