Annie - Adopted 2011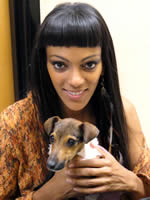 Annie was found by one of our volunteers in a dumpster. Our volunteer saw someone putting what looked like a puppy in the dumpster, she went to see and it was Annie. Annie was immediately brought to the vet and given a check-up, vaccinations and spayed. She came through surgery and seemed perfectly healthy for a day. She then became very ill and had to be hospitalized for several days. The vet isn't completely sure what she had, but we do know it was a very bad infection. We almost lost her, but this little fighter pulled through!
After being cleared by the vet she was put up for adoption. She was immediately adopted by a wonderful family - we always love a happy ending!