Aurora- Adopted 2011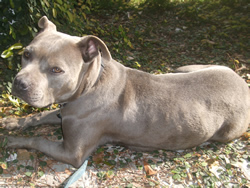 One of our volunteers found Aurora wandering into a busy street. She was a little timid, but very sweet. We immediately checked for tags or a microchip and found neither. No one responded to our ad when we tried finding her family. We put her into our adoption program after no one came to claim her. When she had her first vet visit we learned that she is very high heartworm positive. She has started medication to prepare for heartworm treatment. Treatment is expensive and means she will be in a foster home for several months. If you would like to help with Aurora's heartworm treatment please consider donating.
Aurora is doing very well in her foster home. She was thin at first, but is eating well and is not food aggressive. She is a little a jealous of her foster mom's other dogs. We think she is jealous because she has not previously had much attention from humans and she does not understand that there is enough love for everyone.