Doogie Howser M.P.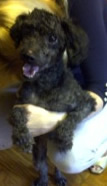 Doogie was living happily with his family when he wandered out of his yard into a neighbor's yard. The large dog living in that yard acted defensively and attacked Doogie. We want everyone to understand the dog wasn't being aggressive, he was protecting his family from the strange dog. The attack ripped out part of Doogie's neck and part of his ear. His owners thought he was going to die from his injuires so they chose to not take him to the vet.
Doogie is a fighter and his wounds began to heal on their own. Due to the size and severity of the wound it became very infected and developed a large abcess. At this point the owners realized Doogie wasn't going to just die and brought him to animal control to be euthanized. The intake coordinator felt terrible for all this little boy had been through and saw something special in him, he was brought to the vet to see if he could possibly be saved. It isn't enough to say he was in bad shape, the abcess on his neck was larger than his head and his ear was hanging off. Doogie had surgery to repair the damage and the vet wasn't sure he would pull through. He pulled through the surgery and spent a month with the vet staff recovering. When our volunteer met him he still had a large scar on his neck from surgery and his ear was sensitive where it was stitched back on. He had also developed a bed sore from laying in a crate all day. He stole the volunteer's heart and she brought him home for the rest of his rehabilitation.
Everyone at animal control had fallen in love with him and wanted him to find a true family who would love and care for him for the rest of his natural life. We expect him to have a permanent scar on his neck, but once his fur grows back it won't be noticeable. He also has a small limp on his front leg due to the severity of his injuries, but he doesn't seem to notice it. The vet thinks it is just a tight muscle and with exercise it will go away over time.
His foster mom reports he is the happiest, most loyal dog ever! He is always smiling and just happy to be around people who love him. The M.P. at the end of his name comes from Animal Control. When he arrived at animal control he was in a lot of pain making him cranky. He was nicknamed "mean poodle." After his surgery that was changed to M.P. because he was so sweet, they couldn't call him mean anymore. He is one and a half years old and one of the sweetest dogs his foster mom has ever met. We are sickened that his family was so careless to not seek proper care for him, but we know the perfect family will come along!