Sissy - Adopted 2011, Whiskers - Adopted 2011 & Blackie AKA Spuds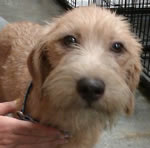 These precious pups were rescued from a woman who had many more animals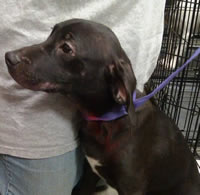 than she could possible care for. APAWS and several local rescue groups agreed to help when contacted by one of the reality Hoarding shows. The show and all rescues involved did an excellent job getting everyone to safety!
These pups are about four and a half months old and spent those months in a closet. They experienced their first steps on grass and walking on a leash for the first time with our volunteers. They are still a little timid, but seem to be adjusting quickly to their new lives. They are currently available for adoption and are sure to make excellent additions to their new families.
Animal hoarding is a topic that has gathered a lot of attention in recent years. It is easy to place blame on the individuals keeping more animals than they can handle, but it is a mental disorder. Most people who end up hoarding animals start out with the best intentions. They start by picking up strays on the side of the road, always being the person to take unwanted animals from friends/family or have strays dumped in their yard by strangers. The number of animals quickly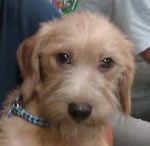 become more than they can handle physically, emotionally or financially. They can't afford getting them spayed/neutered so they end up with an unending supply of new animals. Everyone can help prevent future cases like this. Spread the word about low-cost and free spay/neuter programs. Educate others on the hazards of puppy mills and how awesome rescue animals are! Tell your friends and family that it isn't necessary for a cat or dog to have even one litter! If you feel a friend or family member may have a problem saying no to just one more cat or dog please assist them in finding psychological help.